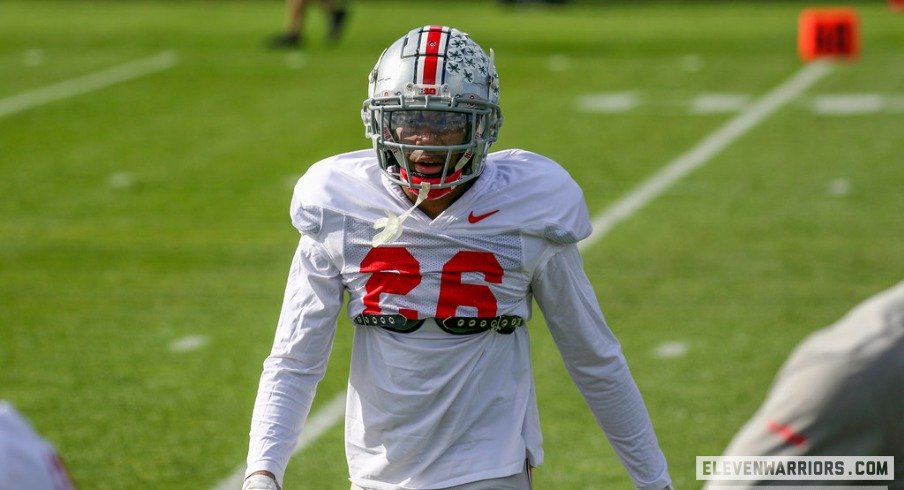 "I feel like I have a lot more to prove here": Cameron Brown says unfinished business was the main reason he returned to Ohio State in 2022
During Tuesday's practice in Ohio State, Cameron Brown made his presence known.
During the early periods, Brown was at the front of the line during defensive back drills, barking instructions to some of his teammates. The normally soft-spoken upper-class cornerback was stepping slightly out of his comfort zone and trying to take on a leadership role ahead of Saturday's Rose Bowl.
"I want to develop as a player, as a leader," Brown said on Tuesday, the first time he spoke to reporters since announcing his return to Ohio State for a fifth season on the 16th. December. "I feel like the leadership role has been slowly growing on me. I don't really see myself as a leader yet, but over time I think I'll get there.
While the game might be seen as meaningless to some fans given that this is not the college football playoffs, Brown does not embrace that mindset. He was on the roster the last time OSU played at the Rose Bowl in 2018, but couldn't play. On Saturday, he will start as a cornerback against rookie Denzel Burke.
"I want to win the game," Brown said. "I want to win the Rose Bowl. It really is a big thing for me. My first year, I didn't have the chance to play it so this is my first time playing so I'm excited.
A win would be a triumphant end to Brown's most successful college season so far, though he would admit it has been far from perfect. Brown's career in Ohio State has been a wild ride filled with ups and downs, to say the least.
He came to Columbus as four star wide receiver Enlisted from St. Louis in the class of 2018. It wasn't long before the 6-foot, 190-pound Buckeye changed positions to a cornerback, which he had also played at Christian Brothers High School ( St. Louis, Missouri).
After playing limited snaps in 2019, Brown secured a spot in the 2020 cornerback rotation, but his season was cut short after tearing his Achilles heel in the second game of the season. Ohio State.
Brown, a junior redshirt, has battled injury again this season. His Achilles was doing perfectly fine, he said, but his knee was another story, causing him to miss three games and start only five in the regular season.
Nonetheless, he became the team's second best cornerback. Brown finished the year with eight defended passes, the second-most Ohio State player behind Burke, and 21 total tackles with one interception against Penn State.
"I feel like I played really well," Brown said of his year. "I don't like to say how well I played, but I think I played well… I feel like I understand the game better. Coming in the first year of receiver, I didn't really know much local. I really didn't know anything at all. I was right there. This year I was starting to learn how to break down a movie, how to study receptors, how to cover different ones. This is really all.
He could have had three interceptions this season if it hadn't been for crashes, but by Brown's own admission, he has to hit the JUGS machine a few more times.
Directed to the jugs

– Cameron Brown (@luh_cam_) November 14, 2021
Brown's career could have been over after that year, and the fourth-year Buckeye still wondered whether or not he would return to Ohio state until mid-December. But he ultimately decided he had more to accomplish and didn't want Saturday's Rose Bowl to be his final chapter as Buckeye.
"Really, what really got me thinking was that it didn't suit me. I feel like I have a lot more to prove here and I feel like I can really help the team, "said Brown. "I feel like I have unfinished business here. I feel like I could develop myself as a player in particular and really win more games. This is really what it was about.
Brown kept his circle small while making his decision. He said he didn't ask for any input from his teammates or coaches because it was a choice he had to make for himself.
"I didn't really talk about it because I didn't really, I wanted it to come straight from me so they gave me time to think for myself and I made a decision "Brown said.
Once he announced his return, Brown felt the love of his team and coaches.
"He's working really hard," said Ohio State high school coach Matt Barnes. "He's a brilliant guy. Every player improves with experience. There is no substitute. There isn't a movie or practice rep that really simulates what it's like to go out there and perform in the game in front of a large crowd. When it's going fast and something you've done in training and everything is on the line. Just being in an expanded role this year, I know it's been a big part of its development.
If you ask an Ohio State player a question right now focused on the upcoming seasons, you'll likely come across a line about how they are solely focused on the Rose Bowl. But it's hard not to imagine how Brown's return could bolster the Buckeyes' defense in 2022.
"The (guys) were happy that I was coming back," Brown said. "Young guys, I feel like I can go out there and help them learn more, and I just hope to get out there and just go."
After OSU starts 2021 with a very inexperienced secondary, the Buckeyes will return Burke, Brown, Ronnie Hickman, Bryson Shaw and Lathan Ransom, all of whom have played important roles as defensive backs this year. Ohio State should also benefit from the return of safety Josh Proctor, who suffered a late season injury against Oregon.
Of course, the Buckeyes will have a new defensive leadership in 2022 with former Oklahoma State Defensive Coordinator Jim Knowles. While Ryan Day has said he doesn't expect the overall structure of the defense to change, it's possible Brown will be asked to do new things in Knowles' plan.
Brown said he had a brief conversation with Knowles after he was hired.
"I think he likes me to come back," Brown said. "I haven't really delved into it, but he and I talked about it, talked about it."
Next season will be a time for Brown to finally put together a full season of injury-free movies. But for now, Brown will be focusing on helping the Buckeyes beat the Utes on Saturday.