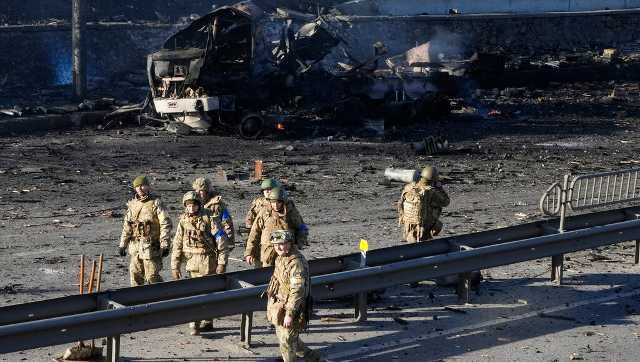 Russia raises its key rate to 20%; US asks citizens to leave Russia
Ukraine Russia war news live updates: AFP reported citing Russian agencies that Russia's central bank has raised the key interest rate to 20%
Ukrainian soldiers walk past the wreckage of a burning military truck on a street in Kiev on Saturday, February 26, 2022. AP
Ukraine Russia War News Live Updates |
The US Embassy in Russia has encouraged Americans to leave the country as soon as possible, calling on them to prepare a "contingency plan that does not depend on US government assistance".
In a notice issued on Sunday, the US Embassy noted that "an increasing number of airlines are canceling flights to and from Russia, and many countries have closed their airspace to Russian airlines" in response to the Russian offensive in Ukraine.
The embassy said that, with that in mind, U.S. citizens "should consider leaving Russia immediately through the commercial options still available." He also reiterated that the US State Department's current travel advisory for Russia is "Level 4: Do not travel."
British oil giant BP said on Sunday it was selling its stake in Rosneft, a Russian state-owned oil and gas company. BP has held a 19.75% stake in Rosneft since 2013. The British company also said its CEO, Bernard Looney, and former BP executive Bob Dudley will immediately resign from Rosneft's board.
The Dalai Lama on Monday said he was "deeply saddened" by the conflict in Ukraine, as the exiled Tibetan spiritual leader called for peace and "mutual understanding", according to CNN. "War is over – non-violence is the only way," he said in a statement.
According to Russia todayBrazil has refused to choose sides in the ongoing conflict between Russia and Ukraine, pledging to remain neutral as the US, EU, UK and their allies continue to impose sanctions radicals to Russia, accusing it of "unprovoked" aggression.
Union Ministers Hardeep Puri, Jyotiraditya Scindia, Kiren Rijiju and General VK Singh will travel to countries neighboring Ukraine to coordinate the evacuation mission and assist the students, government sources said. News18.
According to News18, Prime Minister Narendra Modi has called for a high-level meeting now on the Ukraine crisis. It is possible that some Indian government ministers will travel to countries neighboring Ukraine to coordinate evacuations.
The Russian ruble plunged nearly 30% against the dollar on Monday after world powers imposed new, tougher sanctions on Moscow for its invasion of Ukraine.
The ruble was indicated down 27% to 114.33 per dollar in offshore trading, according to Bloomberg News.
The Ministry of External Affairs on Sunday activated a dedicated Twitter account, "OpGanga Helpline" (@opganga), to help with the evacuation of Indian nationals from war-torn Ukraine. The mission to evacuate stranded Indians from Ukraine was dubbed "Operation Ganga". India has already set up 24-hour "screening centers" in Poland, Romania, Hungary and Slovakia to assist in the evacuation of Indian nationals from Ukraine through border crossing points with these countries. .
The control room hotline numbers in Poland are: +48225400000, +48795850877 and +48792712511. Those who need help can also write an email to [email protected], according to the MEA. The control room hotline numbers in Romania are: +40732124309, +40771632567, +40745161631 and +40741528123. The email address to contact the control room in Romania is [email protected]
The MEA said Indians can contact the control room in Hungary at phone numbers +36 308517373, +36 13257742 and +36 13257743. They also have a WhatsApp number: +36 308517373 for assistance. The control room hotline numbers in Slovakia are +421 252631377, +421 252962916 and +421 951697560. The email address is [email protected] to Ukrainian officials, the most world's largest aircraft, the Antonov AN-225, was destroyed during the Russian invasion of Ukraine.
The huge plane, named "Mriya" or "dream" in Ukrainian, was parked at an airfield near Kiev when it came under attack.
"Russia may have destroyed our 'Mriya'. But it can never destroy our dream of a strong, free and democratic European state. We will prevail!" Ukrainian Foreign Minister Dmytro Kuleba wrote on Twitter.
India abstained in a procedural vote at the UN Security Council to convene a rare special emergency session of the UN General Assembly on Russia's aggression against Ukraine , even as New Delhi welcomed Moscow and Kiev's decision to hold talks on the Belarusian border.
The resolution passed with 11 votes in favour, paving the way for a General Assembly meeting on the crisis as early as Monday. India, China and the United Arab Emirates abstained, while Russia voted against the resolution. It will be only the 11th such emergency session of the General Assembly since 1950.
The 15-nation Security Council met on Sunday afternoon to vote on the emergency special session of the 193-member General Assembly on Russia's invasion of Ukraine.
It comes two days after the Russian veto blocked a UNSC resolution on its "aggression" against Ukraine.