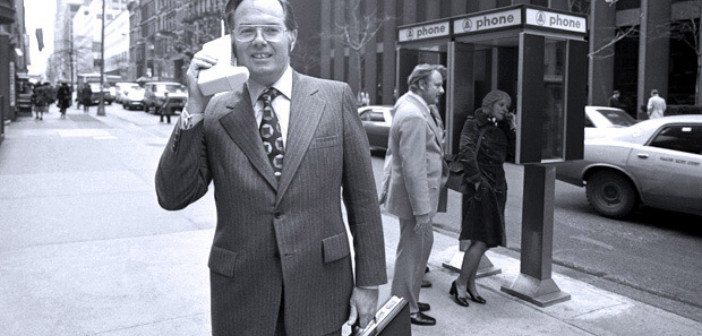 #TBT: patent issues plague 3G; Canadian consolidation; Ghosts of past technologies…this week in 1999
Editor's Note: RCR Wireless News is pulling out all the stops for Throwback Thursdays, drawing from our archives to resurrect top headlines from the past. Turn on the time machine, put on those sepia hues, set the date for #TBT and enjoy the memories!
Unresolved patent issues plague 3G
Although Qualcomm Inc. and LM Ericsson have announced solutions to Code Division Multiple
Access disputes and a stalemate over third-generation intellectual property rights, the companies have failed to resolve key technical differences that 3G parties have been trying to resolve for more than a year. Qualcomm and Ericsson announced last week that they have resolved all patent disputes regarding cdmaOne technology and will cross-license intellectual property rights for all CDMA technologies, including cdmaOne, W-CDMA and cdma2000. The two companies had been deadlocked over 3G patents, refusing to cross-reference patents they claimed to hold with W-CDMA and cdma2000 technologies unless certain conditions were met. Qualcomm wanted a CDMA standard backward compatible with second-generation systems, while Ericsson advocated multiple standards. The two said they now agree to jointly support approval by the International Telecommunication Union and other standards bodies, including the Telecommunications Industry Association of America and the European Standards Institute. telecommunications, which has already approved W-CDMA technology, of a single 3G CDMA standard that encompasses three optional modes. … Read more
3G uncertainty in China
CdmaOne suppliers in China are eagerly awaiting official word from the government on whether China Unicom is allowed to deploy Interim Standard-95 technology. "It appears China Unicom has been advised that it can proceed with its plans to roll out a CDMA network using the spectrum it already has," said a supplier in China. "They have to go back to the ministry and present what the plan is… It looks like there has to be a final offer and an acceptance." Months ago, there were signs that the Chinese government had soured on cdmaOne technology as US officials indicated that China had essentially mandated the global system for mobile communications as a national technology, preferring to wait for the development of third generation. The government previously halted Unicom's plan to deploy cdmaOne technology because it wanted the operator to compete with state-owned operator China Telecom on a technological level playing field using GSM technology, said economist Hui Pan. chief and director of the Asia-Pacific region with Information Guardians in Boston. But China is seeking approval to be part of the World Trade Organization, and… Read more
Trade tensions with China threaten telecom import/export
WASHINGTON- Just as it emerged that the United States and China were about to strike a major trade deal promising huge wireless export opportunities and the Chinese organization m, a spy controversy high-tech outbreak that casts doubt on both potential breakthroughs and gives Republicans a new political opening to criticize the Clinton administration for putting China engagement ahead of national security. Last week, in response to new spying allegations and criticism from the GOP, Energy Secretary Bill Richardson fired Chinese-American scientist Wen Ho Lee from Los Alamos National Laboratory in New Mexico after he failed polygraph test and refused to cooperate with FBI agents during questioning about whether he played a role in China obtaining US nuclear secrets more than a decade ago. Lee's dismissal follows recently concluded U.S.-China talks in Beijing on trade and other issues, and comes just weeks before Chinese Premier Zhu Rongji's visit to the nation's capital. The recent visit to Beijing by Secretary of State Madeleine Albright, U.S. Trade Representative Charlene Barshefsky and other administration officials was made awkward by the White House's decision to decline, on grounds of national security, export licenses Hughes Electronics Co. was seeking a $450 million deal. to sell two satellites to a Chinese-led consortium for a mobile phone system in Asia-Pacific. Nonetheless, administration officials sent positive signals afterward that substantial progress had been made in trade with China, the United States' fifth-largest trading partner. Last year, US telecommunications exports to China totaled more than $726 million, while Chinese telecommunications goods imports reached $1.9 billion. That's part of the problem: The United States was in the red by $57 billion in China's trade last year. … Read more
Consolidation in Canadian telecommunications
The Canadian telecommunications market saw major changes last week, as its four smallest telecommunications companies agreed to merge into one company and Bell Canada formed a strategic partnership with the American Ameritech Corp. The merger of the four Atlantic region companies will create the third-largest telecommunications company and second-largest information technology provider. The new company, provisionally called AtlanticCo, is made up of Bruncor Inc., Island Telecom Inc., Maritime Telegraph and Telephone Co. Ltd. and NewTel Enterprises Ltd. On a pro forma basis, AtlanticCo will have net income of $114.2 million in 1998. , with some 230 million mobility subscribers and 78% market share in the region. "It has a solid financial foundation and has the size, scale and growth strategies necessary to become a significant player in the telecommunications and information technology sectors in North America," said Gerry Pond. , President and Chief Executive Officer of Bruncor. Pond is set to become executive vice president of the new company and president of its Information Technology and Emerging Companies group. … Read more
Remembering ghosts of past technologies
While vendors are pouring their time and energy into America's three major digital standards and developing standards for third-generation technology, there doesn't seem to be much room for commercialization of the more obscure technologies touted a while ago. years. "You need volume production and vendor financing," said Brian Cotton, principal analyst at Frost & Sullivan in Mountain View, Calif. "You have to feel good that this technology is going to be there." Just as the advanced paging protocol of personal air communications technology never saw the light of day due to lack of operator commitment, analysts wonder if personal access communications system technology will follow suit. . "There will be a tech highway full of wreckage on the side of the road," said Larry Swasey, analyst at Allied Business Intelligence in Oyster Bay, NY "WLL and other alternatives like broadband wireless and other data and phone offerings will fall to whoever comes to market at the right time Proponents of PACS technology, a low-level mobility wireless option, seem to be few and far between these days. started pushing the technology hard in 1995, hoping to convince smaller personal communications service operators and wireless communications service licensees to adopt the technology.Today, vendors like NEC America Corp .and Siemens Stromberg-Carlson have ceased developing PACS products in the U.S. … Read more
Crown Castle expands its tower kingdom
In the past two weeks alone, Crown Castle International Corp. more than doubled its tower portfolio in the US and UK, securing a leading position among independent tower companies. The most recent deals with Powertel Inc. and One 2 One in the UK add a total of 1,471 towers to the company's portfolio, and an agreement with BellSouth Corp. earlier this month added 1,850 rounds. The company also formed a joint venture with Bell Atlantic Corp. last year which added 1,400 rounds to its inventory. Crown's total tower portfolio exceeds 6,000, while its closest competitors, American Tower Corp. and SpectraSite, each control between 2,000 and 3,000 turns. "That makes Crown one of the two main tower companies along with American Tower, although I think the two are a bit different in what they have," said Mark Ein, director of the Carlyle Group, a tower company. private equity firm based in Washington DC. … Read more
Check out the RCR Wireless News Archive for more stories from the past.