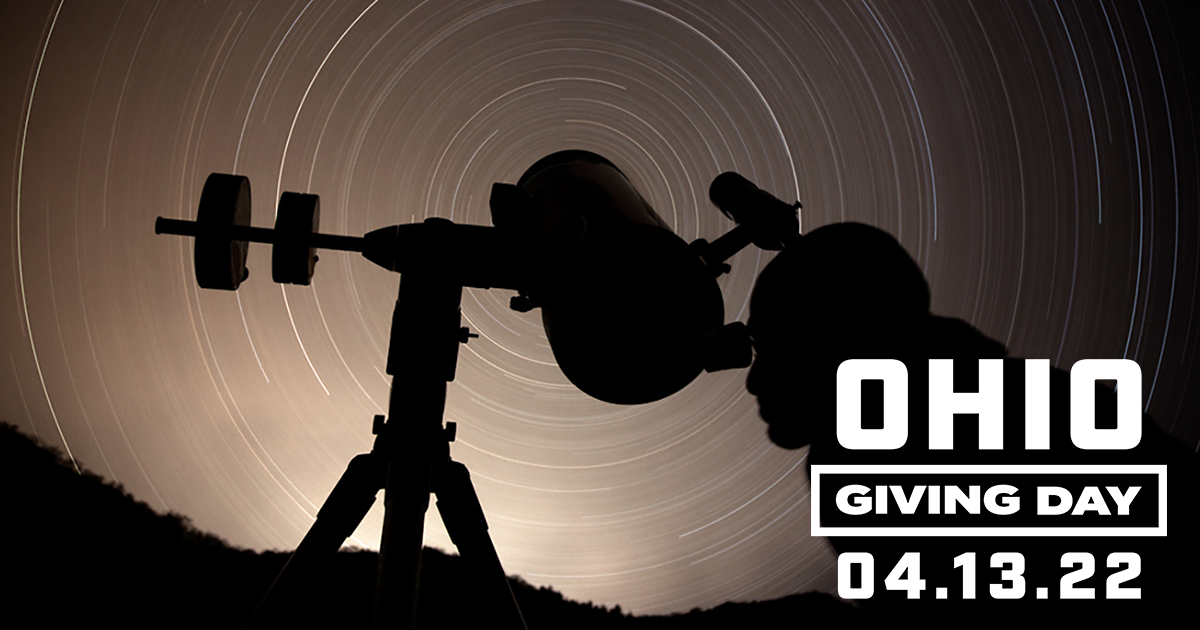 OHIO Giving Day set for April 13
Ohio University's third Giving Day will begin at midnight Wednesday, April 13, inviting alumni, parents, students, faculty, staff, and friends to share the OHIO experience with the next generation of Bobcats.
The 24-hour fundraising campaign will focus on supporting the experiential learning opportunities that have become a hallmark of an OHIO education.
"The Ohio University experience is one that will stay with you forever," said OHIO President Hugh Sherman. "OHIO Giving Day is essential in helping to expand opportunities for every student to build a portfolio of experiences that will shape who they will become and prepare them for all that is to come. I encourage all members of the university community to join to April 13 and share the OHIO experience with the next generation.
More than 1,800 donors contributed to Giving Day 2021, raising $479,639 for scholarships, programs and initiatives across the University.
"Looking to build on last year's success, our goal for Giving Day 2022 is – appropriately – 2,022 donors," said Caty Allgood, Senior Director of Annual Giving. "I encourage all members of the University community, especially our alumni, to reflect on how their experience at OHIO has shaped their lives. Giving Day is your chance to pass on those same transformational experiences to students at today.
The campaign website, givingday.ohio.edu, will feature nearly 150 unique funds, giving donors the opportunity to support the aspect of the OHIO experience that matters most to them. Three feeding times are scheduled, one that adds a chance to double your gift and two more offering fun OHIO freebies: From 10:00 a.m. to 11:00 a.m., the first $100 of all freebies will be matched dollar for dollar up to $20,000, thanks to The Ohio University Foundation Board of Trustees and the university leadership. Then, from 2-4 p.m., the first 500 donors who donate $25 or more to any fund will receive a special Ohio University pennant as a thank you. From 8 to 9 p.m., the first 100 donors who donate $25 or more to any fund will receive a one-of-a-kind Ohio University baseball cap.
In addition, many funds have set up matching or challenge gifts, thanks to the generosity of alumni, faculty, staff and friends. All donations made to OHIO on April 13 will count toward Giving Day totals.
"No matter how connected you are to Ohio University, you know the special impact this place, its programs and its people have on every student who calls OHIO home," said Nico Karagosian, Vice President of University Advancement and President and CEO. of the Ohio University Foundation. "Please join us for this annual celebration of the power of this community and the OHIO experience. Your donation — and your participation — makes a difference.