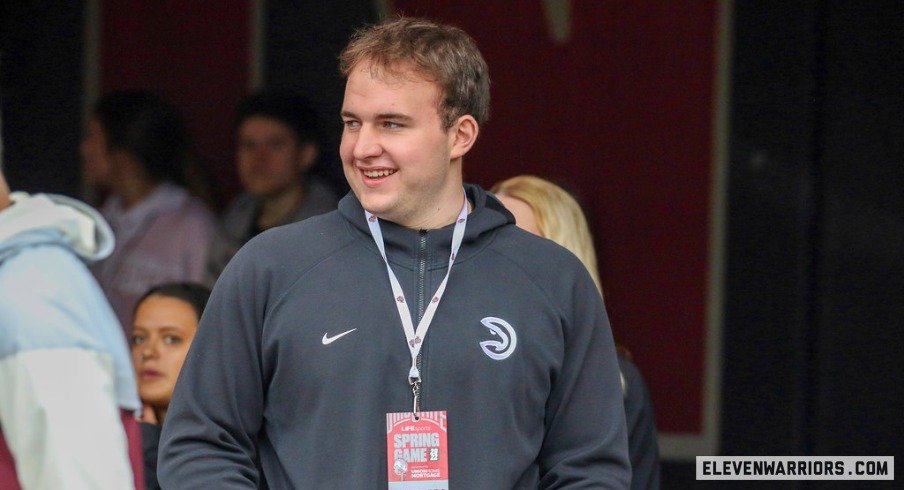 Four Questions About Ohio State Recruiting After Spring Football Concludes
A week has passed since Ohio State wrapped up its spring football slate with its spring game on April 16.
OSU assistant coaches are now looking to get back on the road with full recruiting through May 31 as part of the spring judging period. But as spring football wraps up, there are still some questions about Ohio State football recruiting.
We explore these questions further below.
Can Ohio State seal the deal with Austin Sierveld?

Ohio's 2023 four-star offensive lineman recruiting Austin Siereveld comes to an end. The 6-foot-5, 315-pound prospect recently put together a top three out of Notre Dame, Ohio State and Alabama, though it really does look like a two-team race between Notre Dame and Ohio State at this point.
Sierveld visited Columbus for the OSU spring game last weekend, and offensive line coach Justin Frye visited him at his school earlier this week. On Saturday, Sierveld was in South Bend for Notre Dame's spring game. While Sierveld could certainly extend things into the summer and make official visits to everyone, it looks like a resolution is coming here sooner rather than later. It wouldn't be surprising to see him wind up at Ohio State or Notre Dame at this point.
If not Richard Young, who will be Ohio State's second RB in 2023?

Ohio State has already landed the Florida 2023 four-star running back commitment Marc Flecher, but the Buckeyes hope to take two running backs in the current cycle. The Buckeyes' top two targets have been Florida produce Richard Young and Cedric Baxter, but Baxter is heading in a different direction. He released a top-five list on Saturday and left the Buckeyes out, leaving a good question as to what OSU will turn to if it can't win over Young.
— Cedric C4 Baxter Jr (@CedricBaxterJr1) April 23, 2022
While Young received a 247Sports Crystal Ball projection in favor of Alabama, OSU still can't be ruled out to land the 5-foot-11, 200-pound back. Young's relationship with running backs coach Tony Alford is as strong as any, and he's been to Ohio State three times in the past year. Young has an official visit from OSU scheduled for late June and plans to commit sometime before the start of his senior year. If the Buckeyes land Young, it will likely happen because of this visit.
But if Young were to go to Alabama, Georgia or anywhere other than Ohio State, maybe the Buckeyes would step up their quest for Judge Haynes or Daylan chokes. Although he doesn't currently hold an OSU bid, the Ohio product Willtrell Hartson has made numerous visits to Columbus over the past year and Alford has spotted the Massillon product in person, so maybe he's getting a late offer.
Of course, there's always the option for OSU to roll with Fletcher as the only fullback for the current cycle if the Buckeyes can't find another player they're comfortable with to partner alongside the murderous tailback of Florida.
Will recruiting attacking tackles gain more momentum?

While offensive tackle has been Ohio State's most glaring positional need for the Class of 2023, he's been pretty quiet for the most part on that recruiting front.
To start with the good news, Ohio State has certainly established itself as a 2023 four-star offensive tackle contender. Olaus Alinwho visited Columbus in March and has already scheduled an official visit for late June.
THE FINAL FOUR #AGTG @Hayesfawcett3 pic.twitter.com/HxjrBjmdrF

— Olaus Alinen (@alinen_olaus) April 1, 2022
However, the main targets Chase Bisontis and Samson Okunlola didn't end up making it to campus this spring after the two originally planned to visit. Ohio State also spent a lot of time recruiting a four-star tackle from Florida. Payton Kirklandbut he left the Buckeyes out of his top five earlier this spring.
The Buckeyes aren't expected to be written off for Bisontis or Okunlola just yet, but getting the two on campus for an official visit in June is crucial if OSU is to have any chance of landing either.
OSU offered a four-star lineman to Texas Ian Roseau last week, and his family spent nearly a week in Columbus for the spring game, so there's clearly mutual interest there. But it also holds offers from programs such as Alabama, Clemson, Texas, Texas A&M and USC. Reed will likely take on his recruiting in the fall, so OSU will have to stay persistent with Reed if they hope to land him given the relationship is fairly new.
Thank you @CoachJFrye @CoachSollenne and @OhioStateFB for a great week in columbus it was an awesome trip will definitely be back! @RecruitVandyFB pic.twitter.com/3OUj4iitr0

—Ian Reed (@Ian_Reed72) April 17, 2022
Three Star Indiana Product Trevor Lauck has visited Ohio State several times over the past year, so he could definitely be another option to fill out the recruiting class.
Who is Ohio State's next commit?

A day after its spring game, Ohio State landed two commitments in a single day: wide receiver Bryson Rodgers and cornerback Dijon Johnson. With these two in the fold, the natural question is who's next?
Could it be Siereveld, or maybe the five-star quarterback of 2024 Dylan Raiola, who made two visits to OSU this spring? Or will it be someone else entirely? Stay tuned, as many prospects liked what they saw during their visits to Ohio State this spring and may decide they're ready to become Buckeyes sooner rather than later.