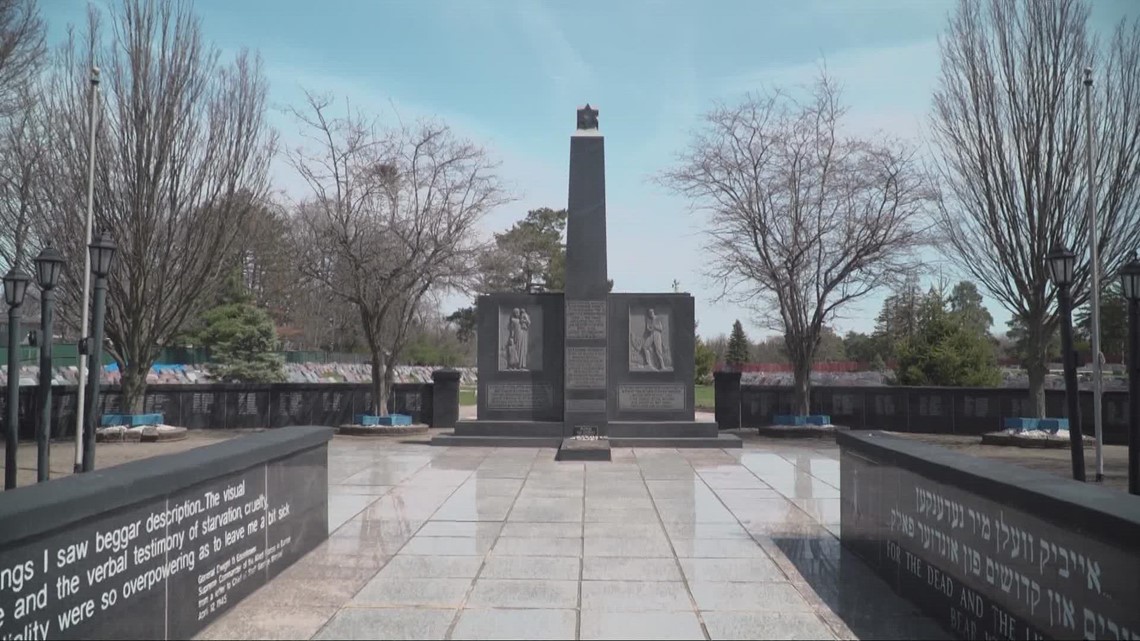 The Foundation That Helped Holocaust Survivors in Northeast Ohio Return to Their Homes
The Kol Israel Foundation is pushing for its Holocaust memorial to be recognized as a national monument.
BEDFORD HEIGHTS, Ohio – In the heart of northeast Ohio, there is a memorial dedicated to the memory of the millions of lives lost and to Holocaust survivors and their families who have started new lives here in the northeast Ohio.
The Kol Israel Foundation is behind it all, and the Jewish organization is now striving for national recognition so the stories will never be forgotten.
Helene Pincus visits this memorial quite often at Zion Memorial Park. The names of his family members are engraved on the Kol Israel monument in the center of the cemetery, where his parents are buried.
"I come here for birthdays, death anniversaries, before Jewish holidays…before something wonderful happens in the family," Pincus said. "Strangely, most of my parents' friends are around [and buried here]."
His parents, Anne (Hanka) and Mike Frum, were Holocaust survivors.
"I don't know how they did what they did and they were so good," Pincus told us. "They were good people."
Anne and Mike met when they were just 14 – working as slaves in a munitions factory, according to Pincus.
"My dad saw her wearing a blue coat and a black collar," Pincus said. "They were very young and they fell in love."
They were separated, but by sheer luck the couple reunited when they were released five years later. Anne and Mike married and eventually settled in Greater Cleveland, where they were motivated to educate the community by helping found the Kol Israel Foundation.
The foundation was started by Holocaust survivors who made Cleveland their home after World War II, and the organization has enabled them to share their stories to educate and commemorate. The group was born in 1960, and a year later work began on the Kol Israel Memorial.
"We believe this is the first of its kind in the country," said Kol Israel Vice President Jeremy Joseph. "It was very intensive work for the survivor community to get this built in the first place and something that they felt very strongly about, and you can see a number of people decided to be buried here to be close. of these ashes."
The ashes are at the center of everything. Joseph says they come from three different concentration camps: Auschwitz-Birkenau, Majdanek and Bialystok
"It's always nice to come here and pay homage and remember all they sacrificed to get here to raise our families here," Joseph said.
The Kol Israel Foundation is working to get its Holocaust memorial the recognition it feels it deserves: distinguished as a national monument so that people across the country can visit and look back.
"For people across the country to recognize this effort, I think, would be really important and something that they were aiming to do," Joseph explained, "because the message of Kol Israel is to teach people what happened."
Joseph says he grew up learning many lessons from survivors, including his grandfather, Leo Silberman.
"He was a very young teenager when the war came to Poland," Joseph recalls. "He was sent to several different concentration camps, and at each of them it was a battle for him to survive, and he always found a way. When he came to America, he delivered groceries and the stacked on upside-down shelves because he couldn't read labels.
"For the Kol Israel Foundation, we are the voice of survivors. … It is important for us to provide first-hand stories. Ideally, survivors would tell them, and they have done so over the years … and now they aren't. We can't do it. We do it, we take care of it for them. We try to tell people that there are things in the world like bigotry and hate. . it is important for us to always fight them."