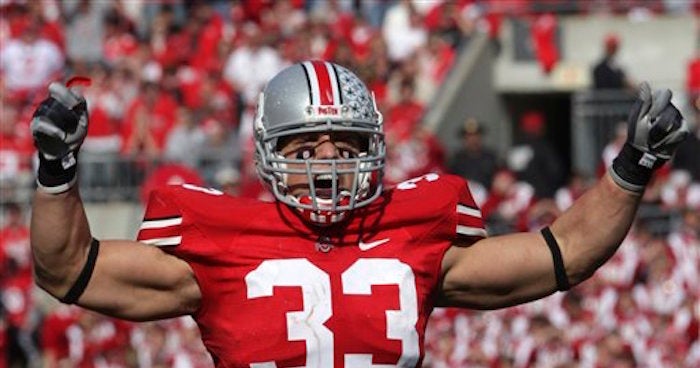 Ohio State's James Laurinaitis and Chris Ward named in 2023 NFF College Football Hall of Fame ballot
The National Football Foundation (NFF) and the College Hall of Fame announced on Monday that 80 players and nine coaches from the Football Bowl subdivision and 96 players and 33 coaches from the divisional ranks are on the ballot for induction into the College Football Hall of Fame in 2023. The ballot has been sent to more than 12,000 NFF members and current Hall of Fame members. These votes will be tabulated and submitted to the NFF Court of Honor, which is chaired by a member of the NFF Board of Directors and member of the College Football Hall of Fame Archie Griffin.
Included in this group are two former Ohio State players at linebacker James Laurinaitis and offensive tackle Chris Ward. This is the fourth time Laurinaitis has entered the ballot for the NFF College Football Hall of Fame. Ward has been under consideration five times, including this year.
In order to be eligible for the NFF College Football Hall of Fame, a player must have received First Team All-America recognition by a recognized outlet that is used to understand their consensus All-America teams. The player must also be 10 years away from his college career and no longer playing professional football, but having played college football for the past 50 years.
"It's a huge honor to be on the College Football Hall of Fame ballot given that over 5.54 million people have played college football and only 1,056 players have been inducted," said the NFF President and CEO. Steve Hatchell said in the statement announcing the ballot. "The Hall's requirement to be a first-team All-American creates a much smaller pool of about 1,500 people who are even eligible. Being part of today's elite group means an individual is truly among the greatest to ever play the game, and we look forward to announcing the College Football Hall of Fame Class of 2023 at the start of the next year.
Laurinaitis was a three-time first-team All-American during his four-year career with the Scarlet and Gray, a consensus All-American in 2006 and 2008 and a unanimous selection in 2007. His 375 total tackles, 24 .5 tackles for a loss, 13 sacks and nine interceptions from 2005-2008 won Laurinaitis two Big Ten Defensive Player of the Year awards, a Bronko Nagurski Trophy in 2006 and a 2007 Butkus Award. During his time with the Buckeyes, Scarlet and Gray played in consecutive National Championship games and won four consecutive Big Ten titles. Laurenite was inducted into the Ohio State Athletics Hall of Fame in 2018.
Ward played for Ohio State in the mid-1970s and was a two-time All-American. He was named a consensus All-American in 1976 and a unanimous All-American the following season, in addition to earning three first-team All-Big Ten selections. Ward helped the Buckeyes win at least a share of four conference titles, including blocking Griffin in his second season of the Heisman Trophy in 1975. He was inducted into the Ohio State Athletics Hall of Fame in 1989
What's next for the Buckeyes? Make sure you know — take five seconds to sign up for our FREE Buckeyes Newsletter now!
Want the latest scoop and news on the Buckeyes? Try our 7-DAY FREE TRIAL AND BECOME A BUCKNUTS SUBSCRIBER!
The NFF has announced that the Class of 2023 College Football Hall of Fame will be officially inducted at the 65th Annual NFF Awards Dinner on December 5, 2023, and that the group will be "permanently immortalized" at Chick-fil-A College. Football Hall of Fame in Atlanta. Each athlete will also be honored at their respective schools with an on-campus salute from the NFF Hall of Fame during the 2023 season.
"Having a ballot and a voice in the selection of College Football Hall of Fame inductees is one of the most valued benefits of NFF members," said the NFF President. Archie Manning said in the press release. "There is no group more knowledgeable or passionate about college football than our members, and the tradition of voting helps us engage them in the high responsibility of selecting those who have reached the pinnacle of achievement in our sport. "