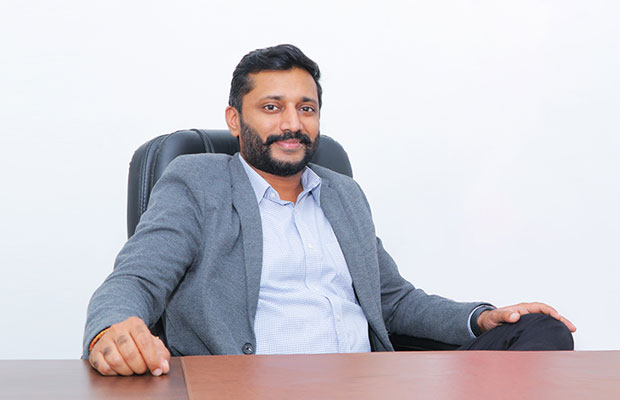 Mayank Jain, Director, Crayon Motors
Mayank Jain, Director, Crayon Motorsbegan his career with the organization in 2019. Under his leadership, he steered the electric vehicle startup in a direction that made it one of the fastest growing electric vehicle companies in less than two years.
Even though he had the option of pursuing an MBA at the prestigious IE Business School after pursuing a Bachelor of Business Studies at the prestigious SSCBS, Delhi University, he postponed the decision to pursue his father's vision on the electric mobility, given that he comes from a lineage with expertise in e-mobility. The leader, whose family business includes UP Telelinks Limited, a leading manufacturer of wires, cables, harnesses and electric rickshaws, is also the co-founder of former eclectic loungewear brand, Dirty Laundry.
Mayank Jain shares thoughts on the EV space and Crayon Motors in an interview.
What is attracting start-ups in droves to the two-wheeled electric vehicle space? Why do you think you'll survive legacy players once they hit the market?
Mayank Jain: This is a wonderful and interesting question. You have to understand the genesis of start-ups diving into the EV market. Compared to ICE vehicles, electric vehicles, especially two-wheelers, are simple and non-complex products. The technology is simple and easily accessible to everyone. Barriers to entry for EV manufacturing, although existing, are still lower than those for ICEs. It is therefore an easy entry for new players on the market. That said, the market is heading towards consolidation. Start-ups, now more than ever, need to play their game well and introduce the products that are right for them. It will also help elevate the whole industry. As a smart start-up, one can also consider lucrative absorption or consolidation when legacy players come in.
Legacy players come with their own expertise and their own networks. Their entry is sure to have an impact on the overall dynamics of the market. This will lead to further consolidations and collaborations. In the electric vehicle industry, there is room for more than traditional players. And that's what we aim for. For this to happen, start-ups need to have a solid foundation and key factors like the right product, at the right price, and the right service. Collaborations for evolving technology and faster turnaround will help us in this competition.
Do you think the FAME 2 program is achieving its goal? What could make it more effective?
Mayank Jain: The FAME 2 initiative, which encourages individuals to adopt electric vehicles, has helped bring public attention to electric vehicles. The program has actually helped to change the game. FAME has encouraged investors from all walks of life and has resulted in huge investments in the electric vehicle sector. Measures outlined in this year's union budget for the electric vehicle sector will help reduce car ownership costs by reducing battery costs by almost 50% of the cost of the vehicle. However, the policy is still ongoing. Such an undertaking opens the doors to a lot of evolution and collaboration in the sector. EV zones will help minimize pollution in cities while promoting electric mobility. In a sector as nascent as ours, there is always something more that can or must be done. I think opening up retail outlets and lowering lending rates for us would go a long way and the government will help with that as well.
How long does the electric vehicle segment need subsidies?
Mayank Jain: We compete with the legacy of ICE vehicles that have been around for over a century. The overall goal in the electric vehicle sector remains to reduce India's dependence on imports from other countries and make our nation green and clean. For this to happen, constant support is needed for at least five years or more. The support of all stakeholders will be needed in the long term. As an industry, we are beginning to find our place.
What is your marketing and promotional strategy?
Mayank Jain: We believe our product should speak first. A sturdy and shiny product is the best marketing strategy a brand can have. So we stay focused on developing amazing products and maintaining overall customer satisfaction through prompt service and more. These are the key pillars of our strategy. We also focus on offering a wide range of products for different types of consumers. Crayon customers will be able to choose from a range of options depending on their needs. Every customer is unique and over the next year customers will see a large basket of Crayon products.
Are you sticking to a certain geography for sales right now? What are the billing options for your customers?
Mayank Jain: Our products have been widely accepted all over India. The current product line has been more widely accepted in Tier Two and Tier Three cities. It is not specific to any region and goes to pan-Indian level.
As a firm, we continually strive to better understand the needs and objectives of our clients. We always strive to continuously support our customers with various top-up options. Charging a Crayon scooter is as easy as charging a cell phone. We offer a plug-and-play model for all of our product categories. This gives customers the convenience of charging anywhere – at home, in the office or anywhere else with a power outlet. We always suggest our customers to wait a while before initiating charging right after a ride, which may not be possible at all times. To find a solution to this as well, we have partnered with Bounce Infinity. The association will extend battery-as-a-service to all "low-power" and "high-power" two-wheelers made by Crayon. Stations will have batteries charged and ready to use at all times that can easily be swapped out with their nearly empty batteries in less than a few minutes. With this infrastructure in place, customers wouldn't have to wait for their vehicles to charge, worry about range, or remember to charge them. Other charging options are under advanced discussion and should be announced soon.
How do you see the impact of the proposed battery swap policy on the segment?
Consumer attitudes seem to be shifting from a property-oriented paradigm to a service-oriented approach. This is the notion that propels many new industries. Interchangeable batteries are in the same category. Changing the battery reduces the cost of ownership of two-wheelers by nearly half, making it an attractive proposition for consumers. However, there are also several obstacles in this method. High installation costs, battery safety, battery ownership, and battery uniformity, among other considerations, will determine the viability of this model. I believe that for this to be successful, multiple groups will need to work together to make this a reality. In India, a new policy on battery change should help to move things forward. Pricing, as with any other service, will play a central role in determining its success.
We work closely with some of the country's battery swap operators. We have partnered with Bounce infinity to set up battery swap stations across India. This association will offer the battery as a service to all our products including two/three wheels. Our stations will always have batteries charged and ready for use; that one can easily swap out with their nearly empty batteries in minutes. With this infrastructure in place, customers wouldn't have to wait for their vehicles to charge, worry about range or remember to charge them, etc.
How will the industry evolve in the coming years? Will we see consolidation or exits?
Mayank Jain: The electric vehicle industry is expected to undergo drastic changes very rapidly over the next few years. The market continues to grow and offers many opportunities for growth in both categories – components and finished products. The market is ripe for associations and collaborations, to help reduce the cost of product development. I think we'll see a detective of both consolidations and exits as we grow.
Share an assumption you had when you started that turned out to be completely wrong after you launched and experienced market reality?
Mayank Jain: I always believed that at the beginning, it was necessary to have a clean slate and the desire to learn. The Indian market is quite diverse. We also noticed a change in the attitude of customers a few hundred kilometers away. As a result, you have to be open to new experiences and really learn from scratch. A deployment requires knowledge of the local market.