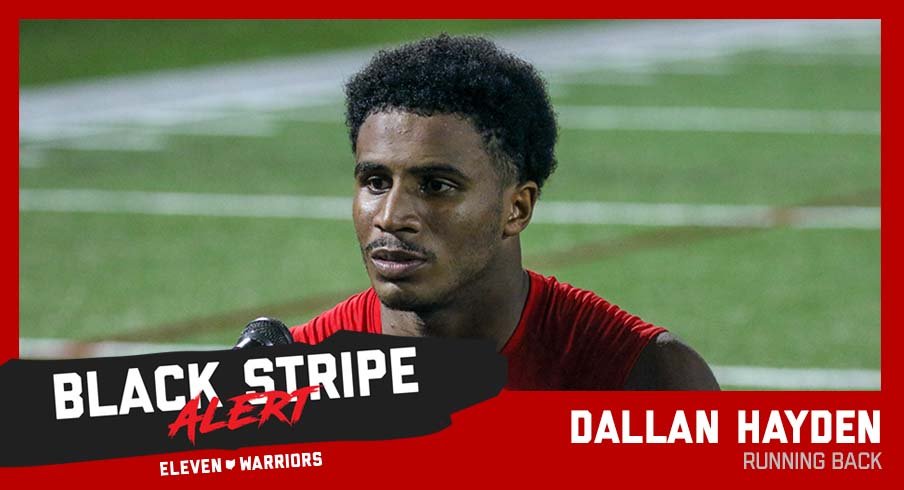 Ohio State Freshman Running Back Dallan Hayden Throws Black Tape
Ohio State might need Dallan Hayden ready to play as a true freshman, and the Buckeyes are showing their confidence that he'll be ready to do so.
Two weeks before Ohio State's season opener against Notre Dame, Hayden had his black tape removed, becoming the second registrant this summer (after wide receiver Kaleb Brown) to "officially" become a Buckeye. .
The removal of the stripes is just the latest indicator that Hayden is off to a good start in his first camp as Buckeye. Just two days into camp, Hayden drew praise from Ohio State running backs coach Tony Alford for his "full speed" approach to practices. After Ohio State's first spring scrimmage last weekend, Ohio State offensive coordinator Kevin Wilson said Hayden "had some really good runs, which is good to see."
"He's learning, freshman, a little overwhelmed, but he's got speed and explosiveness," Wilson said of Hayden.
Hayden is in line to see early playing time as a rookie after Evan Pryor suffered a season-ending knee injury last week. While TreVeyon Henderson and Miyan Williams will likely see the vast majority of meaningful runs this season as Ohio State's top two running backs, Hayden is now in line to be the Buckeyes' third running back, making him a potentially important player if further injuries occur at the position.
Hayden is working hard to improve quickly ahead of his first season as Buckeye.
"I feel like I'm getting better every day," Hayden said on Aug. 5. "Everything Coach Alford does is for a reason, that's for sure. Obviously his track record, all the backs he's coached have been very successful. So obviously he knows what he's doing, and I'm just trying to take his coaching to make me a better player.
Hayden was one of two freshmen to have their black tape removed on Saturday along with wide receiver Kyion Grayes, bringing to seven the total number of freshmen who have had their black tape removed so far this year.
BLACK BANDS REMOVAL 2022


| PLAYER | POS | DATE | Status |
| --- | --- | --- | --- |
| TANNER MCCALISTER | S | MARCH 28 | To transfer |
| KYE STOKES | S | APRIL 8 | First-year student |
| CADEN CURRY | OF | APRIL 11 | First-year student |
| CHIP TRAY NUMBER | KG | AUGUST 9 | To transfer |
| JYAIRE BROWN | BC | AUGUST 9 | First-year student |
| CJ HICKS | KG | AUGUST 13 | First-year student |
| ZAK HERBSTREIT | AND | AUGUST 17 | Second year |
| KALEB BROWN | WR | AUGUST 17 | First-year student |
| KYION GRAY | WR | AUGUST 20 | First-year student |
| Dallan Hayden | RB | AUGUST 20 | First-year student |